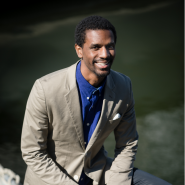 CRC's Environmental Management Career Development Program works with the Chesapeake Bay Program partnership to offer three-year staff opportunities for science, management, and policy graduates as the partnership works to protect and restore the Chesapeake Bay. The CRC Staffers, stationed at the Chesapeake Bay Program's office in Annapolis, MD, provide coordination and administrative support and assistance on technical and management projects. Staffers mature professionally by participating in group training and educational experiences, individual professional development opportunities tailored to each Staffers' specific career interests, and though volunteer activities with local organizations and agencies. Over the summer months, two new Staffer positions were added to the eleven positions already supported by the program. The first of these positions supports the work of the Chesapeake Bay Program's Habitat Goal Implementation Team (GIT). CRC Staffer support was already in place for the Habitat GIT but this new position is a welcomed relief to a very busy and productive team. The second position added to the program supports the work of the Chesapeake Bay Program's Diversity Workgroup. The Diversity Staffer is a new area of support for the career development program and we are thrilled to add this important topic to our portfolio of Staffer opportunities, especially as the Environmental Management Career Development Program continues look to increase diversity within the program itself.
The Chesapeake Bay Program's Diversity Workgroup was formed after the signing of the 2014 Chesapeake Bay Watershed Agreement to address agreement goals and outcomes related to diversity and environmental justice. The workgroup's primary focus is to identify stakeholder groups that are not currently represented in the leadership, decision-making, and implementation of conservation and restoration activities and create meaningful partnerships, opportunities and programs to recruit and engage them in the Chesapeake Bay Program's efforts to protect and restore the Chesapeake Bay and its surrounding watershed. Meaningful engagement is defined by exploring values important to underrepresented communities like public health, economic opportunity, and overall quality of life. Furthermore, the workgroup seeks to promote environmental justice through the meaningful involvement and fair treatment of all people regardless of race, color, national origin or income.
In August, CRC was pleased to welcome Mr. Darius Stanton to the CRC family as the Diversity Workgroup's new Staffer. Darius earned a Bachelors of Science degree from Claflin University in environmental science, while also focusing on political science. While at Claflin, Darius used several student leadership positions, including his college ambassadorship with Green for All and his position as Mr. Claflin University 2013-2014, to host events and forums that raised campus environmental consciousness. He also ensured participation from the surrounding community. Darius was instrumental in helping Claflin University transition from a university that did not recycle, to being recognized as one of the top five sustainable Historically Black Colleges and University's (HBCUs) with environmental initiatives. Following his time at Claflin University, Darius earned his Masters degree in Environmental Management at Duke University's Nicholas School of the Environment. While at Duke, Darius was a teaching assistant for a community-based environmental management course and also earned a certificate in Teaching Inclusion and Diversity in Environmental Leadership. Welcome Darius!
As the Diversity Workgroup Staffer, Darius will be researching, promoting, applying and tracking efforts related to the workgroup's mission and goals; raising awareness about diversity, inclusion and environmental justice issues within the Chesapeake Bay region; interacting with a diverse workgroup membership and partner network; and reaching out to local communities and organizations to address community concerns and establish new partnerships. Since he started in August, Darius has been analyzing data collected from Chesapeake Bay Program partners that will be used to establish a baseline measure of diversity within the Chesapeake Bay Program partnership. The Diversity Workgroup will also use this information to develop a goal for increasing diversity program-wide.