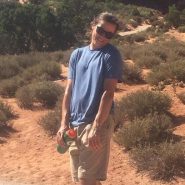 CRC's Environmental Management Career Development Program works with the Chesapeake Bay Program partnership to offer three-year staff opportunities for science, management, and policy graduates as the partnership works to protect and restore the Chesapeake Bay. There are currently thirteen CRC Environmental Management Staffers supporting Chesapeake Bay Program initiatives for various lengths of time as each position follows its own timeline. The blended rotation of Staffers through the program affords new Staffers the opportunity to learn from the experiences of senior Staffers as they begin to navigate their way through the complexities of Chesapeake Bay restoration.  
Kyle Hinson is one of CRC's senior Staffers in the career development program.  For the past two and a half years, he has been supporting the work of the Chesapeake Bay Program's Scientific and Technical Assessment and Reporting (STAR) Team. In this capacity Kyle has worked to support and engage with the Modeling Workgroup, the Integrated and Trends Analysis Team, and the Climate Resiliency Workgroup. Particular examples of this work include contributing to an assessment of statistical procedures in determining water quality trends, developing input datasets for the Phase 6 Watershed Model, and implementing an approach that incorporates the impacts of climate change into modeling processes. Let's learn more about Kyle and his experience thus far.  
CRC: Welcome, Kyle! Thanks for chatting with us. Your time in the program has really flown by and it is hard to believe you are now one of our senior Staffers preparing to leave the program.  
Kyle: It's strange to realize that I've been with the CRC at the Bay Program for two and a half years at this point, and I remember starting my first couple of weeks thinking that I was in way over my head. I would not have expected back then to be considered competent for a lot of the work that I've taken on, but it's been such a great experience to try, then fail, then refine an approach, then fail but get good feedback, before landing on a solid strategy that I can explain to others. I've also had great times working with the other staffers, and getting to see a whole new group really grow and excel in their own positions.
CRC: In addition to supporting the mission of the STAR Team, you have been doing some really interesting work related to incorporating climate change considerations in the Chesapeake Bay Program's models. Tell us more about this effort.  
Kyle: So far the work that I have done to help represent scenarios of climate change in the Bay Program's modeling framework has really been focused on the response of the watershed. I've spent a great deal of time trying to best determine how to approach the multitude of possible options when simulating climate change based on global climate models (GCMs), and have spent time trying to determine expected changes in precipitation and temperature. The timing of increased rainfall and stronger storms can greatly impact what flows down to the Bay, and tying together that response with increasing temperatures has been really insightful.
CRC: This research lead to an impressive professional development opportunity, didn't it?  
Kyle: Because of this work that I had a part in and the collaboration with the modeling team at the Bay Program and insight from outside partners, I was able to present a preliminary synthesis of our findings at the Association for the Sciences of Limnology and Oceanography (ASLO) in Honolulu in March. I received helpful feedback from the overview that I shared and was very pleased to see that other scientists who were conducting similar studies (like Dr. Swaney from Cornell) were finding similar results that can help to validate and improve methods among all parties. Apart from trying amazing food and exploring the city with folks I met, I really enjoyed immersing myself in presentations on topics that were completely foreign to me and happening upon new connections to the Bay Program work that I would have never considered otherwise.
CRC: Now that your time in the Environmental Management Career Development Program is coming to a close, what's next for you?
Kyle: When I left UNC Chapel Hill I swore off going to graduate school and moved up to Maryland to get a fresh career start. Somewhere along the way here I changed my mind, and have since been accepted to the Virginia Institute of Marine Science to work with Dr. Marjy Friedrichs. I'm hoping to continue studying the impacts of climate change on the estuarine side of the Chesapeake Bay ecosystem using models, and gain a better understanding on how a warming earth could impact coastal systems that billions of people live near and rely upon. And if that doesn't pan out, I may try and reunite my high school band or convince my brother to hire me as an agent for his fledgling biking career.