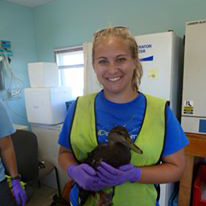 Location : Chesapeake Bay Program Office
Position : Environmental Management Staffer - Protect and Restore Vital Aquatic Habitats Goal Implementation Team
Phone Number : 410-267-5724
Email : hobaugh.paige@epa.gov
Bio : Paige Hobaugh joined the Chesapeake Research Consortium in 2016 as staff to the Chesapeake Bay Program's Habitat Goal Implementation Team (GIT). As a Habitat GIT Staffer, Paige is responsible for providing support to the Black Duck and Brook Trout Action Teams, the Mid-Atlantic Panel on Aquatic Invasive Species, and any Cross-GIT efforts (such as the Fish Habitat Action Team and Oyster BMP Panel) with which the Habitat GIT is involved. Paige is a 2013 graduate of the University of Delaware and holds a Bachelor of Science degree in Environmental Science with a concentration in Atmospheric Science and a minor in Geography. Prior to her work with CRC, Paige was a Chesapeake Conservation Corps Volunteer at the U.S. Fish and Wildlife Service Chesapeake Bay Field Office as well as an intern with the Office of the Delaware State Climatologist. Having grown up in Pennsylvania, Paige is happy to finally be living near water. She likes to spend her free time traveling, reading, solving puzzles, and hanging out with her big yellow dog.